Last Updated on August 8, 2022 by Editorial Staff
Are you looking for outdoor workout activities besides running and jogging? Try cycling. It is a wonderful exercise for your legs and cardiovascular system. Besides, you get to breathe fresh air and marvel at the beautiful sceneries. Apart from being a workout, biking is also an exciting recreational and racing activity. To have a good time on the road, you need a high-quality bike with high performance. The market offers a wide range of bikes to consider purchasing. Unless you know the exact brand you want, it can be challenging identifying a model worth using. However, your purchasing process becomes easier when you research and read reviews of various bikes.
As you come up with a shortlist of bicycles to buy, include Tommaso Monza. It is an Italian brand that boasts of having high-end components and offering superior performance. For more details about it, below is a Tommaso Monza road bike review to illuminate you further.
Main Features of Tommaso Monza Road Bike
It is an endurance aluminum road bike with an HCT carbon fork. It is a very lightweight bike with Shimano Tiagra material groupset for great performance and speed. Its compact frame and premium handlebars give more powerful and comfortable rides. And the bike has more attractive features and benefits, so here is an in-depth review.
Design
When you decide to buy a Tommaso Monza, you are settling for is a unisex aluminum bike available in two colors blue and matte black. They are excellent shades, but more options would be great. It is an elegant, stylish, budget-friendly product providing users with high-end performance. The manufacturers offer several sizes to choose from, including extra small, small, medium, large, and extra-large. This way, it can cater to different age groups. If you are buying bikes for your entire family, Tommaso offers perfect sizes for all of you. Cycle together in style and have fun.
Full Shimano Tiagra Groupset
It consists of Shimano Tiagra components to ensure uniformity in performance. Putting together a bike with parts from different manufacturers affects its overall functioning. For example, one part from a given company might not connect properly with another from a separate manufacturer. Monza utilizes Shimano cranks, cassette, shifters, rims, and derailleurs. The shifters and derailleurs foster fast shifting and easy control over your bike for a comfortable ride on different terrains. You get to change gears using two control levers.
Construction
The manufacturer of Tommaso Monza incorporates a compact, lightweight frame, and a carbon fork to ensure you do not ride a bulky bike. The two aspects also minimize vibrations to give you comfortable rides on easy and rough surfaces. They also have a lifetime warranty for you to enjoy. Tommaso drills the frame to allow you to fix different accessories, such as racks and fenders. The Shimano Tiagra crankset and cassette provide riders with 20 speeds to choose from, meaning you can bike on any terrain with ease and comfortable pace.
Comfort
The comfort a bike offers when cycling is essential. A model that has all the great features but causes discomfort is unlikely to appeal to riders. The frame and compact handlebars on Tommaso Monza are comfortable, which allows you to cover as many miles as you would like without fatigue or soreness. Besides, its saddle consists of an aluminum frame, superb cushioning, and exterior with sufficient foam for additional comfort. The rims are 40mm deep, meaning you are treated to cushioned, smooth, stable rides at all times.
Assembly
It is prudent to hire a professional to help you set up your Tommaso Monza. In case you do it yourself and cause damage, you risk losing your warranty privileges. However, you can have Tommaso assemble most of the parts for you, so you only have to fix the front wheel and handlebars. As mentioned earlier, the frame has a lifetime warranty, which gives it a competitive advantage against other companies. The other parts of the bike, excluding the tubes and tires, have a 2-year warranty.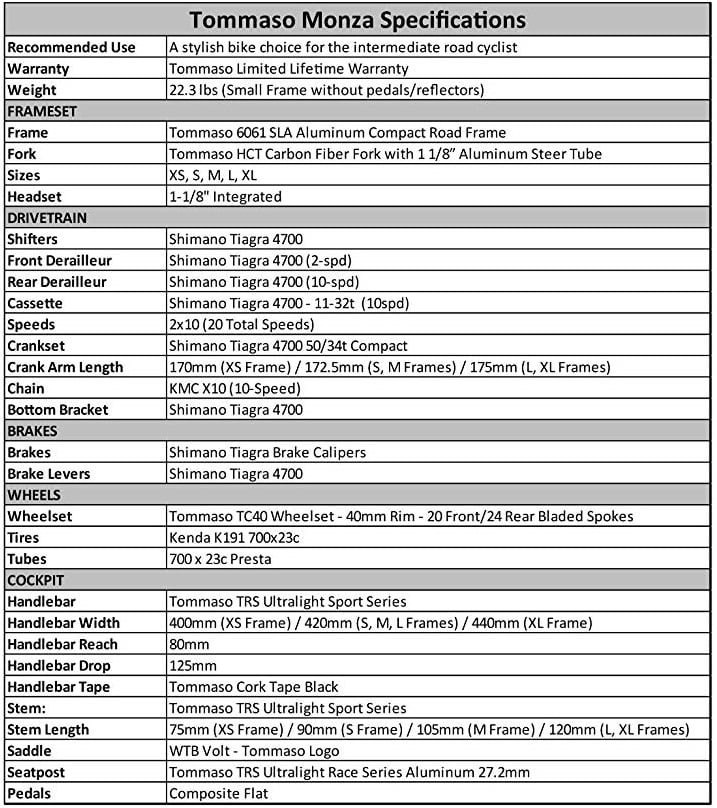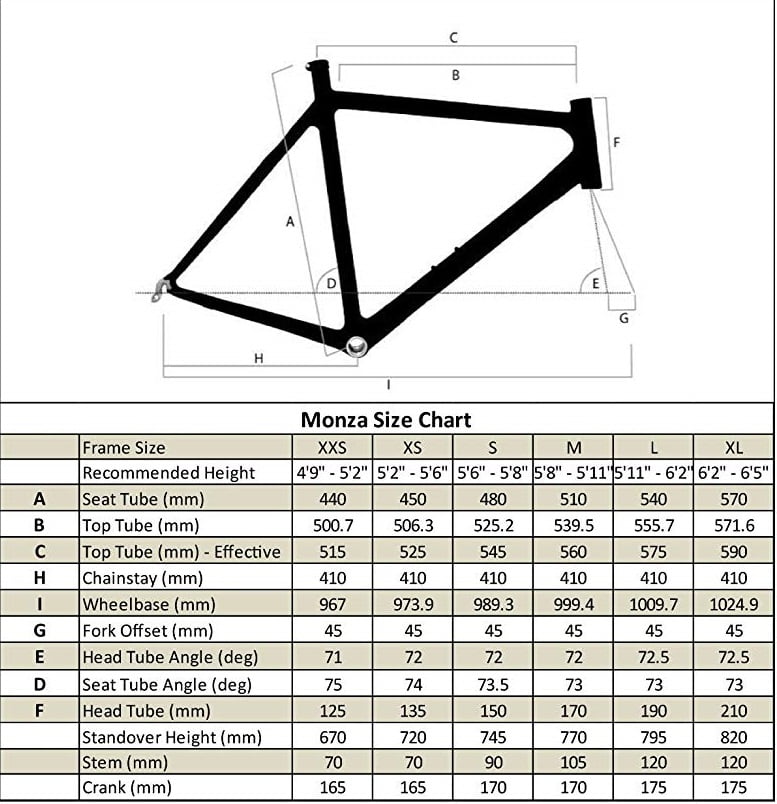 Pros
It has a compact, light frame
The frame is compatible with various accessories
It is lightweight, versatile, stable, durable
The bike is stylish and high-quality offering top-notch performance
It offers fast, highly responsive shifting
Powerful speed
Provides 20 speeds
Dampens vibrations
Offers comfortable, cushioned rides
Operates fast and has a solid construction
Uses a full Shimano Tiagra groupset
It is a unisex product
Affordable considering the features it offers
Available in all sizes XS, S, M, XL, and L
It is generally lightweight
Provides customized sizing for convenience
Dialed in sizes ensure a proper fit
Utilizes authentic Shimano components
Offers superior performance
Cons
It does not use disc brakes, which have become a popular trend; instead, it incorporates basic brake calipers
Tire and pedal quality needs improvement
Offers only two color options
Who is it suitable for?
The bike is suitable for intermediate skill users. You can utilize it to enrich your workouts or for long rides and commuting. Instead of riding a stationary bike, go out and ride a real bike, especially when the weather is convenient. Organize a biking trip with your friends, family, or colleagues, as it is a great opportunity to bond and have fun. If a race is coming up, Monza is a bike worth using. Its stylish design will set you apart from other riders.
Why we like it
We like everything about this bike despite it having a few downsides. One of the things we appreciate about the brand is its full Shimano groupset. It uses components from the same company to provide you with a high-quality bike offering superb performance on all kinds of terrains.
The other aspect we love is the fact that there are 20-speeds for you to use. They have to be enough for all users whether you bike to work or engage in biking for exercise. Besides, the ultra-light, compact design of the Monza is great. You do not want to ride around the streets with a bulky bike that causes you fatigue and discomfort.
Final Thought
Cycling is fun when you have the right bike. Tommaso Monza is one of the bands you should keep in mind when shopping for bikes. It is suitable for intermediate bikers who want to have a fun, workout or participate in a race. It consists of components from one supplier Shimano, a feature that allows it to provide high performance.
It is usable on different types of terrains considering the comfort, cushioning, and 20 speeds it offers. However, it does not lack its share of downsides. There are two color choices only, but they are spectacular and suit all genders. Yes, the bike does not use disc brakes, but its simple brake calipers do not derail performance. As for the pedals and tires, the manufacturer needs to improve its quality. Otherwise, this is a bike worth trying for a change.