Last Updated on August 8, 2022 by Editorial Staff
Very few things compare to the thrill of being on a road bike, taking on rough terrain or cruising on the tarmac. Cycling demands to engage all your senses and muscles yet, at the same time, being utterly relaxing. This freedom and thrill is what makes cyclists so addicted to the sport and attracts more people each new day. It allows you to combine the desire for adventure, challenge, and fitness routine in one activity. It is not monotonous given the many options you have in terms of route and how challenging you want it to be.
At the core of this exciting activity is the bike. The kind of bike you have can make or break your cycling experience. With the wrong bike, you lose not only your investment but also risk injury. An accident or muscle pain resulting from poor posture you are riding in due to the bike's design could cause such harm. This review looks at a bike that is attracting praise for a range of qualities; the Eurobike EURXC550 that is specialized for the road.
Eurobike EUR XC550 Overview
OUR RATING: Recommended (4.0 out of 5)
BEST FOR: Adults (both men & women) & riders 5'5″ to 6'1″ in height
FRAME MATERIAL: High-carbon steel
FRAME SIZE: 49 cm & 54 cm
BRAKE STYLE: Disc
SUSPENSION: Rigid
TIRES: 700 x 28C
TOTAL SPEED: 21
WEIGHT: 18.5 Kilograms

Most Attractive Features
It comes with a steel frame
One of the essential things to consider about a bike is its frame. It needs to be made from quality materials, which balance the sturdiness of the bike with its weight. Carbon and aluminum frames offer the advantage of lightness and durability, but they are more expensive, and steel is more durable. The use of a steel frame in this bike guarantees you a risk-free investment while also assuring you of long-continued use without affecting performance.
The bike has a 21-speed Shimano shifting system
An integral part to road bikes is their performance that is primarily determined by their gear system and speed range. This bike comes with Shimano TZ-30 & TZ-50 shifters and SHIMANO A050 21-speed gear. These are components that are hard to find in other bike brands, even in higher price brackets. They offer greater control to the speed allowing for quick changing of gears.
Better yet, this shifting system offers versatility when controlling speed on different turfs. It is not limited to any specific track which allows you to adjust the system to suit the route you are on currently.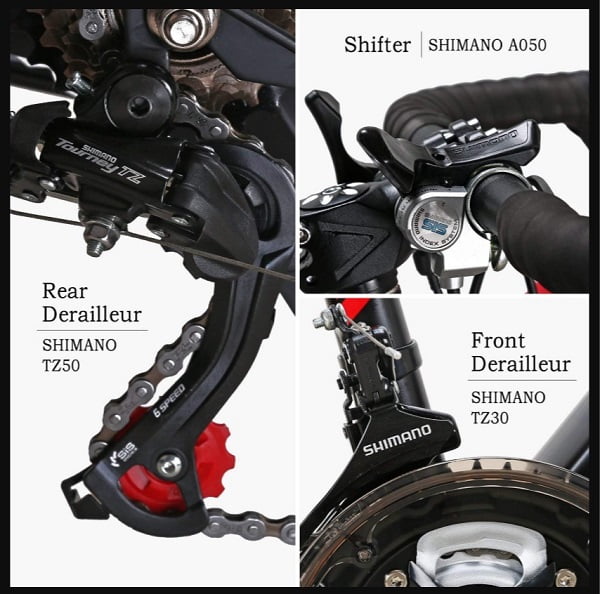 Uses a dual braking system
With all the ease in operation, you will need to check on the quality of safety features. Braking has to be flexible, smooth, and precise to avoid accidents. The EURXC550 comes with aluminum dual disc brakes measuring 160mm. They are neatly incorporated in the structure, helping you to stop the bike safely even from maximum speed. The effectiveness of the brakes enables you to avoid accidents that can cause serious injury to you and also damage the bike.
Wheel features
The bike uses fashion rims (3-spoke wheel) that are elegant as they are functional. The aluminum makes them lighter, which compensates for the heavy frame while still maintaining a high standard of durability. The wheels are also wider than most road bikes that enable the bike to be used on different terrains.
For further relaxing, the bike comes with freewheeling to allow you to stop pedaling for a while as the bike continues with its forward motion.
Ergonomic seat and handlebars
The handlebar and seat are designed to offer the best posture and a comfortable riding position. For instance, the handlebar is iron racing and placed in the right spot. It also provides you greater control of the bike even in rough trails without straining your back. The seat is adjustable to desired heights and offers lower back support and a comfortable sitting posture.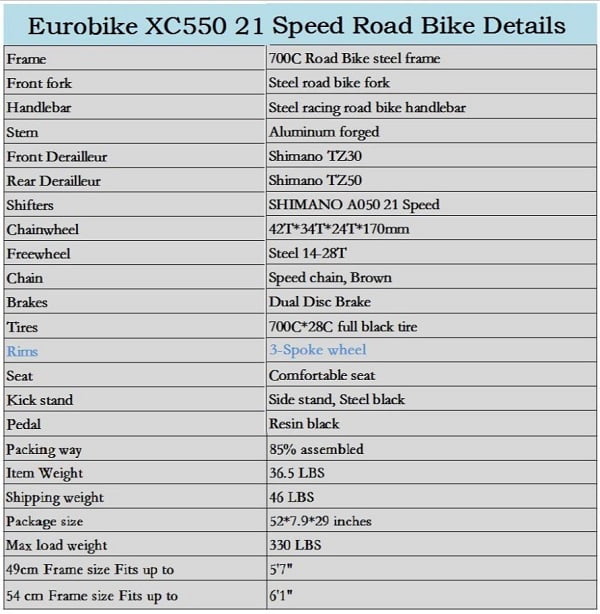 Pros
Durability is assured by the quality steel frame and strong aluminum wheels which can withstand frequent use.
It is versatile enough to be used on different terrain with the same reliability and performance.
It has an eye-catching design to stand out from the crowd while also ensuring all ergonomic standards are met.
It offers excellent value for money with a low cost yet it still comes with extensive features.
Once assembled, it is easy to learn and ride with no complex parts and offers a more stable riding experience.
It can be easily cleaned with all areas accessible. Quality spare parts are also readily available in most local markets or ordered online.
Cons
Can be hard to assemble
It is heavier than carbon and aluminum frame models
May not offer much for advanced riders
It can develop rust when exposed to prolonged wet conditions
Who is it Suitable For?
While anyone can enjoy the EuroBike XC550 to an above-average satisfaction, it seems created with the beginner in mind. Advanced riders may want more speed extra features, and power, that are limited in the EURXC550.
For beginners to cycling and road racing, however, this is the right bike to pick. You do not burn your pocket on a bike you will eventually outgrow, yet you get a designer bike with enough features for starting out.
Why We Like It
There is plenty to like about this road bike. We love the price, which is almost unbelievable considering the bike's brand, design, and range of features. We also like the fact that it is durable, which is necessary especially for the beginner who may have several knocks along the way as they get used to racing. This durability matches perfectly with its versatility that gives you the freedom to enjoy your rides anywhere.
Final Thought
Finding an excellent bike for whatever purpose is a challenge to both first-timers and seasoned cyclists. The two main obstacles are the high costs of professional bikes and the risk of buying a low-quality bike. The bike sorts out these issues by presenting you with a low-cost road bike without compromising on its build quality.
The brand is renowned for its quality bikes beyond just a sturdy frame and durable wheel; it fits the XC550 with enough features. These qualities enable this bike to deliver a robust overall performance than you would expect for its cost. Its short learning curve and safety features make it the right choice for any beginner.