Last Updated on August 11, 2022 by Editorial Staff
Do you love biking occasionally? Perhaps you are an environment enthusiast, or maybe you like to pedal around running errands. There are many types of bicycles on the market. However, a comfort bike is what you need. It is a recreational bike designed to ensure that riders have an easy time using it. It is heavy and slow for stability when riding. You can use it for leisure, fun racing with friends and family, and outdoor exercise as well. If you meet someone who enjoys biking, you can arrange a biking date.
Whenever you are using a comfort bicycle, make sure it is on paved roads, dirt trails or flat terrains. If you intend to go hiking on harsh terrain, then think about buying a hybrid bike instead. As you plan to purchase comfort bikes, make sure you read the best reviews available. Below are brands to consider buying.
Comparison and Reviews of Best Comfort Bikes
01. Raleigh Detour 2 Step Thru



Raleigh presents users with an elegant design. The black and red color combo looks great anywhere. It is a well-built product for durability purposes.
If you will be riding to several places in a day, the seat has a spring mechanism and cushioning for comfort not forgetting its height that suits tall riders too. With soft handlebars that offer a nice grip, there is no need to worry about your hands slipping.
There are 21-gear positions to select, which is a useful feature on hilly terrain. The manufacturer utilizes puncture-protected materials to prevent flat tires from ruining your detour.
This brand is available in a variety of sizes extra small, small, medium, and large. It is therefore appropriate for a person of any size and age be it children or adults. This would be an amazing gift for your child.
Assembling the parts is not a difficult task. It takes at most half an hour. Besides, you will receive your bike when it is over 80% assembled already. You can always seek help if assembling becomes a problem for you.
The bike is light, considering it has an aluminum frame, to ensure you have a smooth ride wherever you go. It is high-quality and usable by both males and females.
02. Motobecane Jubilee FS Full Shimano 24-Speed
As one of the top comfort bikes in our reviews, Motobecane features full suspension functionality. This means it is stable enough especially for biking beginners who may be shaky when learning to ride.
It incorporates a four-link tech that provides you with the comfort and control you need over the bike. If you love bicycles with front lockouts, this is one of them. It has lockout forks.
With the Shimano driver-train and cranks, it is able to deliver a high shifting performance. You deserve to sit on a great saddle while biking. Jubilee's is made from the comfortable gel material.
The adjustable stems increase the flexibility of this bike making it more user-friendly. Brakes are crucial. This brand comes with efficient disc brakes. They work as required whenever you apply them.
Are you wondering for which terrain this bike is suitable? It is super versatile, as it can stand in any road condition. Like Raleigh, Motobecane has an aluminum frame that is durable and lightweight.
If you are planning to race with your friends or family, use this bike. The handles are stable as ever. You will not feel the bumps and potholes when riding thanks to its shock-absorbing construction. About speeds, there are high and low. Select the appropriate one depending on your needs.
03. Raleigh Bikes Venture 4.0



Raleigh appears the second time in the review for a reason. This brand has made a name for itself. With this model, expect to be treated to a simple, sleek bike that offers satisfactory service.
It is available in four sizes small, medium, large, and extra-large. The manufacturer does the assembling partially leaving you with few parts to fix. The upright design prevents you from riding the bike in a posture that hurts your back.
This item has one suspension fork to offer comfort and sturdiness on bumpy roads. The bars are easy to hold and have a good grip. Enjoy riding on the comfortable saddle and pedal.
The Venture 4.0 has a Shimano Altus Shifter that eases shifting. It does not matter the terrain. This product has many gearing settings to ensure you enjoy every minute of the ride is it on hilly, flat, or moderate roads.
This product has an aluminum frame that keeps its weight low for easy riding, and increased portability. The handlebars have a small width for a comfortable grip. Riding a bike is enjoyable when the wheels are large. This is what Raleigh 4.0 provides. It has 27.5" wheels.
You will not complain about the road is bumpy and the like. Riding becomes a breeze regardless of the terrain. The tires roll smoothly while the drive-train shifts easily. Unlike the previous products, this one has a steel frame.
04. Schwinn Solana Urban Comfort 27.5″ Wheel



Schwinn Solana comes with a full suspension fork that promises stability and comfort when riding. The frame and fork ensure an enjoyable ride be it on a flat road or a rough one.
When riding a bike, you will have to shift around. Solana offers a micro-shift thumb and a rear derailleur that give you an easy time shifting the bike and adjusting gears respectively. The disc brakes enable you to stop whenever you like and wherever you are.
Dual fenders boost how stylish this product looks. Fix an alloy kickstand to help you stabilize it when not in use. Saddles, handlebars, grips. What about them? Schwinn provides users ergonomic bike parts. The three are comfortable. Enjoy the nice-feeling grip the handlebars offer.
If you do not like bicycles with bright colors, buy Schwinn Solana. It is grey and has a 27.5-inch wheel.
Ride with your back straight to prevent harm. Adjust the handlebar stem if need be for a smooth ride. Assembling the bike does not have to be difficult especially if you been using bikes before.
When you have used bikes with simple basic designs, it is time to try a sophisticated one such as Solana. It is not hard to ride but has a unique appearance with a little sophistication to set you apart from other riders on the road.
05. Raleigh Bikes Venture Thru



It is a Venture 3.0 step brand perfect for women. When you intend to cover short distances around your home or campground, for example, 3.0 is what you need. It is available in extra small, small, medium, and large sizes.
The bike is light thus easy to lift and ride. The aluminum frame guarantees comfort, as it promotes an upright posture when riding. The last thing you need is a backache or neck pain after biking. Raleigh saves you the trouble.
The frame is designed to reduce the stand-over height while still lowering the distance between the handlebars and seat. No wonder this bike suits women. With the seat post and suspension fork, this model is efficient in curbing bumps. The grips are firm for worry-free holding while the saddle is comfortable.
When shopping, it is essential to check tire dimensions concerning the width. This brand has 1.95-tires that can handle any terrain. The big wheels foster stability. Shimano shifters allow you to adjust speeds for easy riding. The grip and saddle are as comfortable as they get. Durable bikes give you value for your money. Consider buying this bike due to its long-lasting nature.
06. sixthreezero Relaxed Body 7-Speed Recumbent



Are you looking for a lightweight recreational or exercise bike? Among the many models you find in the market or online shop, think about purchasing sixthreezero. It is not for tough hilly terrains, but it can handle light hills. One of its features that attract buyers is ease of use.
It also offers seven speeds to utilize; thus you can customize it to suit your riding level. The bike can go as far as 25-miles. The front suspension eliminates vibration or shock when riding while the Shimano gearing system is reliable and versatile. Have fun biking thanks to the cruiser configuration that guarantees easy, smooth pedaling.
The seat post has a suspension element that guards against shock and vibrations. Always go for a comfort bike with thick tires. Sixthreezero has two-inch tires. Even when you ride over stones, there is no need to worry about falling. The thickness ensures stability on bumpy areas.
Perhaps you are going to the grocery store. This product has a rear rack that provides room for accessories such as baskets and panniers. Its frame and handlebars design keeps you safe from joint pains and other physical discomforts. Body Ease has front and rear brakes that are quick to apply to stop the bike anytime.
07. Diamondback Bicycles Women's Serene Classic



Diamondback is an intriguing name for a bike brand. It offers more than a nice name. You can choose either a small or a medium size depending on your height. Assembling is simple considering the package comes when it is 85% assembled. YouTube has videos to help in case you get stuck when putting together the bike.
Get the maximum out of the steel frame that allows you to get on or off the bike quickly. Every best comfort bike ensures you ride it in an upright position. It is the same case with Diamondback. It is safe for your back at all times.
For comfort purposes, this bike has a suspension fork, a seat post, an adjustable stem, and great grips. The Shimano shifters enable riders to use different gears depending on the terrain. Together with the powerful brakes, you have enough control over the bike.
Wide tires ensure excellent traction for a fun afternoon ride. Serene uses Hi-Ten Remington steel frame that is light and durable. The manufacturer uses top quality material thus ensuring high value and long-term usage.
If you like colorful; products, Serene has an eye-catching blue and white color combination. Be prepared for fulfilling biking sessions on a comfortable, durable, easy to operate the bicycle.
08. Raleigh Bikes Venture 2



Are you not impressed with the other Raleigh bikes? Here is another make to try. It is a sleek, black bicycle that suits recreational and exercise use. It fits anyone. Choose among the small, medium, large and extra small sizing options.
Like the other Raleigh models, this one has most parts already assembled on delivery. The wide tires can manage paved gravel paths. Quality is what you get when you buy this product. Purchase a kickstand separately to make the bike more usable. It is comfortable as well.
The saddle offers to cushion against shock and vibration when riding. The Venture has a suspension element for confident, non-shaky rides. The seat post increases comfort by handling shock. If you are a beat short, do not be alarmed because the distance between the seat and handlebars is reasonable to ensure you do not strain.
The pedals are spacious enough for shoes of all kinds. They do not slide; therefore, preventing accidents, for example, your feet slipping. You should always watch your posture when riding a bike.
Do not slouch; instead, maintain upright positioning. Raleigh Venture makes things easier for you. The frame and handlebar construction foster the correct posture when riding around the streets.
09. sixthreezero Body Ease Men's 21-Speed



Some brands in our bike reviews are appropriate for both genders. With sixthreezero, female and male riders have different bikes, which is a good thing. The men's bike offers several features. For example, it has a 21-speed capability and several gear options for extra flexibility. Enjoy relaxing rides at a speed you like.
The vibrazorb suspension tackles shock and vibration to give you smooth riding. Lock it out or engage it if you wish. You are able to cover at most 25-miles with speeds as high as 20-mph. Shimano gearing will never let you down. Use it to adjust the speed at which you are riding your bike.
The bike's frame geometry is good at soaking tension and shock. You will not experience any pain or strain during and after biking.
For more comfort, the seat post minimizes vibrations. Pedaling cannot be any easier with the cruiser configuration. There are two-inch tires to offer more cushioning and a rear rack for accessories.
Get to appreciate the tension-free riding position that causes your body no harm. Make use of the handbrakes whenever necessary. They work when they should. This brand is high-quality, stylish, and easy to ride. The frame and handlebar orientation is ergonomic for simple use.
10. Schwinn Suburban Deluxe Men's Bicycle



The Deluxe Schwinn Suburban comes with medium frame size. The alloy frame offers a comfortable riding position. Utilize the Revo shifters to change speeds. The Shimano rear derailleur ensures fast gear changing.
Rims are made from light, durable alloy material. You can be sure of getting value for your money. The rims provide more support and stability on the bike.
Remember the wheels are 26-inches wide thus sturdy. They are as good as 27.5-inch wheels. This is a comfort bike usable for light biking thus the wheel dimension is fine.
Saddles consist of different materials. Schwinn uses an elastomer saddle that has a suspension post, which promotes smooth rides. Adjust the handlebar system to achieve a suitable riding position. The front fork gives you steady movement. Rear and front alloy brakes are effective in stopping the bike. The seat is padded while the handlebars have a good grip.
With an overall simple design, setting up the bike is fast, as long as you know where to connect each part. Instead of taking a taxi or driving to the store, consider biking using Schwinn sometimes. You will save fuel and transport costs, and at the same time conserve the environment.
11. Raleigh Bikes Circa 2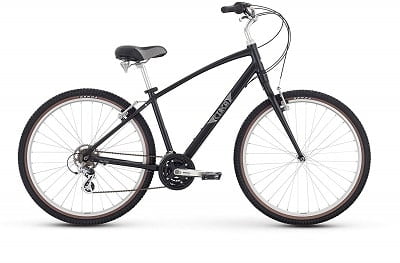 You have a family biking race planned but wondering what bikes to buy. Keep in mind Raleigh Circa 2. It is a worthwhile purchase because it offers a variety of sizes.
Circa offers similar features to the previous Raleigh brands. It is top-grade for durability reasons. Go for smooth rides on a comfortable, steady bike. The alloy material improves quality. With a saddle that has a seat post, this product is in a position shield you from shock. You will not feel the bumps.
The front suspension fork comes in handy when looking for a stable comfort bike. Frames come in different shape. Circa's is rectangular. The rear wheel does not have suspension but the bike is as strong as it can be.
However, it lacks a rear rack for holding baskets and the like. Set the gear at a point that suits your riding needs. The shifters allow you to shift this bike to different positions.
Whenever you need to stop to rest or eat a snack, apply the brakes. They are efficient even in instantaneous circumstances. The wheels are large to accommodate your weight while the tires are thick for better traction on pavements, streets, and dirt trails.
12. Alton Corsa Classic 26″ Wheel 7-Speed



Alton Corsa is a 26-inch wheel bike with a light alloy frame. This guarantees you durability and stability. An interesting fact about the saddle is that you can hide it for comfortable rides. There are seven-speed levels to select. The Shimano shifters make that possible.
Unlike many other bikes, Corsa has a metal basket. This saves you extra expenses of having to buy accessories separately. The front basket is helpful when carrying items for instance groceries.
This reliable, stylish biking product is durable with long-lasting construction. The handlebars are unique in the market. They have a casual design that is simple to use and works just fine for every rider. The shifters are useful when going uphill and downhill.
There is only one size available, and it fits many riders. Use the rear derailleurs for easier biking experiences. They are durable thus prevent frequent replacement. The beige color is spectacular. This would be an excellent present for your woman. It is lightweight with a simple design.
Among the seven speeds, there must be one or two with which she is comfortable. This beautiful bike brand is made from sturdy materials that foster the safety of the rider. Pedaling is fast considering the sign of the pedal. There is a rear rack for carrying extra items when moving around, for example, a yoga mat.
13. Raleigh Bikes Women's Circa 2 Step Thru



When you enjoy riding a stationary bike at the gym, learning how to ride a real bike outdoors is a good idea. Doing so will improve your coordination skills and provide you with a new, refreshing workout environment.
Once you master how to cycle, you need to buy the best bike the market has to offer. Raleigh Women's Circa is a very useful bike. Putting it together is fast. It is designed to ensure comfort and easy use. Choose what suits you from the available sizes medium, small, and extra small.
This is a mid-level brand with an easy to step through frame. Women need bicycles with a short distance between the saddle and handlebars. That is what Circa 2 Step Thru provides. This way you are able to have fun riding your bike without straining.
The upright geometry construction prevents putting pressure on your body, which can be tiring and discouraging to ride next time. The saddle boasts of foam material that feels nice to sit on.
This model utilizes heavy-duty grips for stable holding. The 21 gears provide different speeds allowing you to ride at a comfortable pace for you. Bike on diverse terrains and the large, wide tires will roll easily to ensure smooth motion. If medium and small sizes are not good for you, an extra small sizing perhaps will work for your case.
14. Raleigh Bikes Detour 1



With the Detour 1 Raleigh model, there are extra-large, large, medium, and small sizes to select. Nonetheless, this brand presents users with attractive colors to choose from.
It is stable and comfortable. If you dislike bikes that put you in a straining posture, try Raleigh. Its design ensures you ride the bike in an upright position. Climb those gentle hills with the help of the many gears the manufacturer provides.
The saddle has springs that make it bouncy thus reducing the amount of impact you feel on the seat. Are you using bikes with pedals that slip? If yes then you are risking your life. Detour 1's are non-slip. They foster your safety on the road.
The handlebars have a back-sweep feature that minimizes stress on your neck and lower back. Fender mount, a rack, and big wheels boost how sturdy this bike is. The aluminum fork and frame make it light and durable.
Regarding the number of gears, this model has three front and seven rear gears, and a Shimano EZ Fire. The V-shaped brakes are made from Promax alloy.
When you love long-distance biking to explore nature and unwind, Detour 1 will take wherever you would like to go. However, you can still use it to run errands and for commuting.
15. Kent International Pomona Women's Bike



Enough about the Raleigh, Schwinn, and Sixthreezero bikes. Kent Pomona provides riders with satisfactory experiences too. For starters, it has it has full suspension (6061 front and high tensile steel rear) for more stability when cycling.
Its 26-inch wheels and customized cruiser tires stand out from the rest of the brands. Have fun with the rectangular aluminum frame that suits for 5.3 to 6-feet tall riders. The wheel and tires increase efficiency when on the go.
What about the handlebars? They are ergonomic steel handles that have twist shifters. The Shimano rear derailleur will always be essential on products in best selection. Kent has it.
Sit on the comfortable saddle and ride yourself away. The chain guard offers full cover thus protecting you from injuries. About material, Pomona uses light, handcrafted aluminum frame. It takes care of the bumps, so you do not have to feel them. The quick-release seat clamp, rims, and stem make this bike even more user-friendly.
There are women and men styles. Therefore, you don't need to buy different bike models for your family. You can all ride one brand to boost the bond you have. It is top-notch quality, reliable, and durable. If you were a biking beginner, Kent International would be a good place to start. Assemble it quickly and begin to enjoy what you have missing.
16. Raleigh Bikes Venture Step Thru



Raleigh does not seem to give up. Another of its wide range of bikes appears in the review again. As usual, this make has an attractive look. Sizes to buy are large, medium, small, or extra small.
With 85% of the bike already assembled when you open the box, you will have an easy time fixing the few remaining parts. Ride on bike paths and easy trails in an upright posture. Enjoy steady cycling due to the suspension functionality.
The lightweight aspect fosters high performance of the bike. The last thing you need is a heavy comfort bike when all you want is to go for a casual ride or pick something at the store. The weight might wear you out and make biking a difficult task.
Use the 21 speeds the shifters provide to spice up your rides. However, be careful. Increase the speed gradually and be sure that you can handle it on the terrain you are riding.
The wheels and tires provide the required traction to prevent you from rolling over when cycling for fun. Make maximum use of the comfort grips. They offer stress-free handlebars holding, which reduces fatigue and frustration even when your palms are sweaty.
17. Schwinn Mens Suburban Bike



There is a good reason why manufacturers make both men's and women's bicycles. It is because men and women have different physical characteristics that call for special bike construction for each gender.
With the Schwinn men's bike, expect a steel frame and suspension that offer comfortable rides. Quickly and easily access the gears with the assistance of the seven-speed micro shift shifter. The rear derailleur and Schwinn shift icons also help with the gear-changing process.
This product has rear and front linear brakes. They ensure the bike stops in any condition. The alloy rims are strong, light and durable for continuous long-term use. It will be a while before you replace the bike.
Using the sweptback handlebars, you can maintain an upright position as you bike around the neighborhood. Appreciate the comfortable padded seat and grips, as they smooth your biking sessions. The suburban design makes this bike tough for areas a beat far from city life (pavements and streets).
The 26-inch wheels foster stable rides not forgetting the wide tires. Let the chain guard protect you from injuries such as scratches. This brand has a seat post that helps with absorbing shock when cycling. The tires have partial covers to prevent mud from reaching you.
Buying Guide: How to Choose The Best Comfort Bike?


Shopping for comfort bikes becomes easier when you have an idea of what you are looking for in a product. Here are some of the factors to keep in mind.
Frame material
Bike frames are available in several materials, for example, steel, aluminum, carbon fiber and carbon-aluminum composites. Since you want a comfort bike, consider brands with aluminum or steel frames. They are light thus easy to cycle.
Design
It has to do with how simple or sophisticated the bike you are choosing is. If you are new to biking, select bikes with simple designs that are easy to operate. The design is also about colors and general appearance of a product. An elegant, bright bicycle is a good choice, but you can also buy models with dark shades such as black and grey.
Quality
Go for high-quality products. It is the easiest way to avoid wasting money on inferior bikes. Check the material used in making the model. It should be durable and high-grade. Look at the construction of the bike. Is it well built and sturdy? If not, then you are buying an item that will not last. Worse even, it might cause an accident on the road. Imagine the suspension feature on breaking yet you are going downhill. You might get serious injuries that cost you time and money to treat. High-quality bikes ensure your safety when using them besides being long-lasting.
Comfort
Comfort is a crucial element of any bike. If you are not comfortable, it is difficult to enjoy cycling. You might lose control, get tired fast or develop pains. When it comes to comfort, look at bicycle parts such as the saddle, grips, handlebars, pedals and the distance between the handlebars and the seat.
A good saddle is made from soft material, for instance, gel and foam. It has a shock-absorbing seat post to safeguard the rider from bumps and pothole impact. Go for a brand that offers tight, comfortable grips. Its handlebars and seat should encourage an upright riding posture to avoid back and neck problems. An excellent pedal is anti-slip.
Gears, suspension, breaks
From the review above, you will notice that the products have 21-speed gears. This way, they provide extensive freedom for you to decide which speeds suit you depending on the terrain. If you will be riding on flat paths or pavements, you will need a few gears. When on light hills then you will need a bike with more gears. Nonetheless, it will not hurt to buy bikes that can handle both flat and hilly terrains. You already know such 17 such bicycles.
As a beginner, go for bikes with suspension. It ensures stable, controlled riding that prevents falls. Some have suspension at the front while others have dual or full suspension. It is really up to you to decide what you want.
About brakes, here are rim and disc brakes. Rim brakes grip on the wheel rim to stop the bike while disc brakes grip to the wheel hub. The other types of brakes are drum and coaster.
Conclusion
Comfort bikes serve an essential role. They not only protect the environment (by not emitting harmful substances into the atmosphere) but also improve the lives of riders. It is possible to lose weight and strengthen your joints from cycling that is why gyms have stationary bikes.
Biking is a recreational and leisure activity. It is fun when you bike as a group of colleagues or a family. In your search for the best bikes, read as many comfort bike reviews as possible. This will enable you to identify the correct brands for you.
However, the review above has provided you with 17 models to choose from. Several makes must have impressed you from the long list. What remains is you purchasing your favorite bike and begin enjoying the fun it offers.