Last Updated on August 11, 2022 by Editorial Staff
With the busy work schedules in our lives, it often becomes virtually impossible to fit everything into the hours of daylight. If you're a cycling enthusiast and can't find time for it during the day, then you may opt for a night riding.
Whether you are commuting to work or simply cycling for fitness reasons, the fact that cyclists share the roads with cars in most cities — makes it extremely important to know the basics of road safety.
Riding bike at night laws
The laws governing bike riding at night may vary from state to state, but generally, most of the key regulations are centered on visibility. Cyclists are legally required to have lights. And in most cities, they'll need to have a white front light with a 110-degree visibility, flashing front and rear lights, and red rear light. Also, some laws dictate that cyclists must make use of reflectors and ride a close as possible to the edge of the road.
Without further ado, here are the 10 tips for safe cycling at night:
1. Install enough lights
Having at least one flashing white light on the front and one flashing red rear light is the most basic legal requirement for cycling at night. Unlike static lights, flashing lights have been shown to be significantly more visible to drivers and give them enough time to react. But you'll want to have steady lights on the front in case of low light paths or country roads. And while you may have all your lights fully charged before heading out, it is still advisable to have a backup light.
2. Wear reflective gear
Wearing reflective gear is also a legal requirement. The good news is that, besides the typical safety vests, there are some other great options to choose from and light up the night. Reflective ankle bands, wristbands, sleeves, gloves, pedals, and shoes are great additions to your night cycling. Most states will require wearing reflective materials that are visible at least 50 meters when light from a vehicle's headlight on low beam is projected onto it. And in line with that, red reflectors are an ideal option. Avoid fluorescent colors.
3. Avoid cycling with headphones on
As a responsible cyclist, you must make it your duty to be aware of what's happening around you anytime on the go. So, turning off the tunes is extremely important, whether it's cycling during the day or at night. Needless to say, if you have your headphones on and a vehicle is coming up behind you, you'd probably not be aware of what's going on. It's not safe at all, especially at night as your perception is off already and your sense of balance is disturbed even more.
4. Plan your route carefully
It always feels safe riding routes you're familiar with. When planning a new route, it is best to drive it first during the daylight hours to check out traffic volume and signals. Most cyclists often tend to plan routes online; however, this isn't a great idea. Why? Well, that will only show you the distance to be covered. Physical assessment of your route basically gives you the chance to learn more about the possible hazards that might slow you down.
5. Wear a helmet
Over 6, 000 cyclists suffer head injuries year in, year out in the U.S. Most of these cases are as a result of not wearing bike helmets. The proper use of helmets — that meet the generally accepted standards of the consumer product safety commission — has been shown to be 90 percent effective in with stickers either the American Society of Testing and Materials or Snell Memorial Foundation.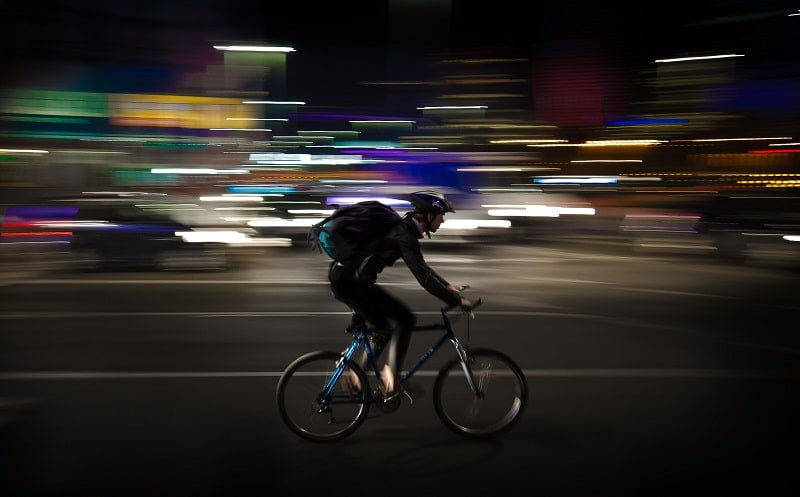 6. Incorporate safety mobile apps into your ride
Most experts generally recommend downloading certain safety mobile apps, which use GPS system that is designed to track your pace and distance whilst keeping tabs on your specific locations in real time. An excellent example of such apps is RunKeeper Live, which even offers an accessibility option that allows your family or friends to log in with a password and know exactly where you are at any given time. It gives your loved ones a piece of mind knowing they can easily locate you if an emergency situation arises.
7. Do not break any rules of the road
One way to be defensive about what you do on the road at night is, without a doubt, obeying all the traffic rules. Make sure you always stop at all the traffic lights and stop signs even when the roads are quieter. Also, don't just assume other motorists will see. At night, it is virtually impossible to make eye contact with a driver before crossing the road. In such a case, you should hold up your hand and wait until you receive a signal from the driver.
8. Carry your ID
There are far many incidences where cyclists were arrested and spent a night in jail for not carrying the legally accepted identification documents. While some think this is a harsh punishment, it is important you always carry your ID so that if something happens, it becomes easier for emergency officials to identify you. Speaking of emergency, you'll also want to carry some cash to travel back home in case you suffer a minor injury.
9. Do a test on your bike
It's never a great experience to get a flat and change your tire in poorly lit streets. In fact, it is often dangerous. You can minimize the risk of your bike breaking down by ensuring is properly adjusted before setting off. Take time to inspect the chain, wheels, and brakes and be sure they are in tip-top shape. Besides being sure of your bike readiness, don't forget carrying a cell phone with you, especially if you'll be cycling alone.
10. Ride with your friends
Riding together with your friends, neighbors, or co-workers with the same commute route is not only fun but also reduces the risk of crime as compared to when cycling alone. Better yet, it even becomes a lot easier for motorists to spot a group of cyclists.
Conclusion
There you have it! While cycling at night safely may seem dangerous and intimidating when starting out, it gives you an opportunity to experience a whole new level of riding. To get the most out of nighttime cycling, just be sure to follow the safety tips discussed above and always stay alert — because you face danger from careless motorists and criminals as well.